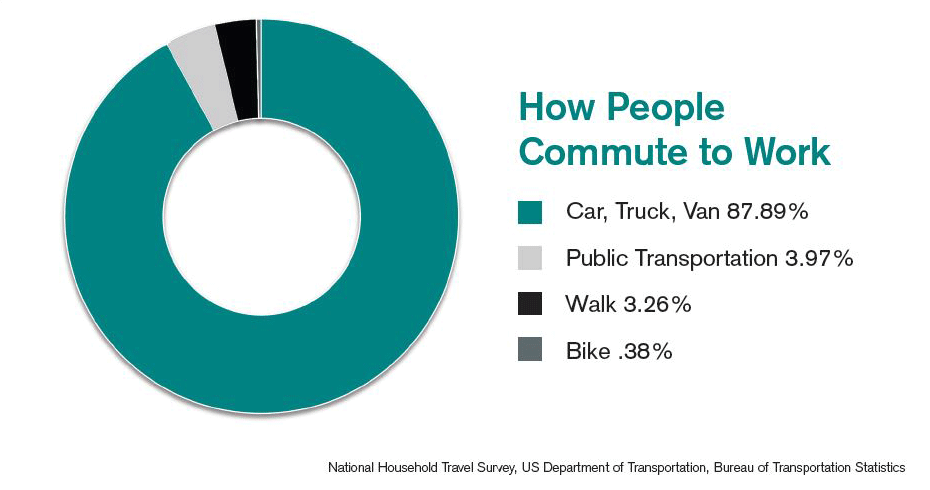 The average employee in the United States starts their weekday the same way, by getting in their car and driving to work. In fact, this is the reality for 87.89 percent of the U.S. population. The National Household Travel Survey, conducted by the U.S. Department of Transportation, shows that almost 90 percent of workers in the United States commute to work in a car, truck or van.
Less than four percent of the population use public transportation for their commute – a statistic that varies drastically if you look at a city-by-city comparison. The United States is home to New York City, whose public transportation system – the Metropolitan Transportation Authority – is ranked one of the ten best in the world by Jalopnik. Public transportation is the main form of travel for New Yorkers, the 2000 U.S. Census revealed that 75 percent of households in New York City do not even own a car. Similar to New York City, other major metropolises, such as Chicago, D.C., and Boston, have heavily used public transportation systems.
Approximately three percent of the U.S. population chooses to walk to work, and a measly .38 percent get to work by means of a bicycle. These seemly "healthier" means of transportation are only really possible for the 29 percent of workers who commute to work a distance of 5 miles or less one way. The majority of the population, 51 percent, commutes ten miles or less each way to work. The less lucky commuters are those known as "stretch-commuters", these 3.3 million American's travel 50 miles or more one way to get to work – 96 percent of those in their personal vehicle.
What does all of this mean for Expats moving to the United States? Well, statistically speaking, you will probably need a car. Make sure that you're considering your transportation options when deciding where to live. Remember to research the area where you're working to find out about your transportation options BEFORE you move. If you need to purchase, lease, or fianance a vehicle you should look for an Expat car company who can help you get financed or leased without needing a local U.S. credit history.